Telechime / General Kontrolar Company Inc.
200 East First Street
Dayton Ohio

Founded by Gisbert Ludolf Bossard 1890-1975
General Kontrolar was a short -lived company, though hugely significant in the history of the chime business. G.L.Bossard is the elusive "Dayton Man" who introduced J. Ralph Corbett, founder of NuTone to the idea of going into the chime business. More on that after some background.
I have learned a fair amount about this company from researching patents, vintage advertising, and discussion with grandsons of G.L. Bossard. Bossard formed General Kontrolar in Dayton OH in 1929 with proceeds he got from selling his previous endeavor, Bossard Railway Signal Corp. maker of railway crossing signals. With Kontrolar, Bossard never achieved the same degree of success, employing at its peak perhaps a dozen people. Bossard authored a number of patents for chime mechanisms, all noteworthy for their amazing degree of complexity. Patents dating from the early 1930's were assigned to his company, General Kontrolar. Advertising for Telechime products indicates that the product range included some very deluxe chimes that combined what were effectively servants bells along with the door chime function. Here's some of the text from a 1932 Sweets Catalog listing:
The Aristocrat model combines in one central unit a door chime, a dinner chime, and a code calling system. Musical keyboard <essentially a wired remote control> and a specially composed book of Telechime melodies furnish morning and evening calls, dinner chimes, vesper calls, and serve as a splendid family entertainment... For the main door a new and different Westminster refrain is played for each new caller, furnishing a harmonious variety of chime melodies that never grow stale... Telechime tubes for the lowest note are 58 in. long and 1-1/4 in. in diameter, sounding deep, mellow cathedral chime notes impossible with shorter tubes or smaller diameter. ... Swedish hand-finished aluminum or bronze cast grill for recess of Aristocrat can be furnished.
It is hard to imagine that such luxury items would have been in large demand in the darkest days of the Great Depression…which perhaps explains the eventual failure of the company. For a time Bossard lived very well in a grand tudor mansion in Dayton known as "Normandy Castle" which had served as the model home- a new idea at the time- when the swank neighborhood was developed. Descendants recall that he enjoyed lavish European tours. By 1939, the money for Telechime was exhausted, and for a time the endeavor was reduced to Bossard and one of his sons doing chime repair woirk. The latest chime patent authored by Bossard that I found (filed July 1937, granted October 1939) was assigned to "Mary Agnew of Hopkinsville Kentucky", a name that I am entirely unfamiliar with, but noteworthy in that it was not assigned to General Kontrolar, which presumably was defunct by the grant date. Perhaps also telling is that it was not granted to his ex-associate Corbett, who by 1939 had gotten Nutone up and running strong.
From Kontrolar's brief glory days, Bossard's grandson describes a 1930s (probably 1937) New York Times article regarding how a Telechime carillon was employed to ring carols to accompany the lighting of the national Christmas tree in Washington D.C. To assure safety for president Franklin Roosevelt as he flipped the switch on, Bossard was required to use a transformer to lower the voltage of the power running through the switch.
Circumstances surrounding General Kontrolar suggested to me that G.L.Bossard could have been the anonymous "Dayton Man" in the story of Nutone's earliest history. Consider:
- Bossard lived in Dayton.
- He was in the door chime business in the early 1930's.
- He was a prolific inventor.
- His ideas for chimes were complicated and would have been very expensive to produce.
- His company suffered financial collapse in the late 1930's.

After some searching, I was able to contact grandsons of Bossard, and they confirmed my suspicions. The Bossard family lore is that General Kontrolar and NuTone were "interwoven"; Bossard did the inventing, Corbett did the marketing and sales, and somehow Corbett ended up with all the money. It seems that Bossard's records were intact until 1990 when his son died, at which time most of the records were discarded. Memories of stories told by a grandfather decades ago are all that remain... that and the Corbett version of events, which has a considerably different tone. Survivors and victors do, after all, write the history. Anyone have additional info on this pivotal event in chime history ?
Today, Telechime products are extremely rare. I know of just a few still in existence. One is an example of the amazing Aristocrat. which remains in the possession of the Bossard family. Another is the infamous "lost & found" chime, featured elsewhere in this site. And another, currently offered for sale on this site. While Bossard was not able to make a commercial success of Telechime, in a way, every NuTone product carries a tiny bit of the General Kontrolar genetic fabric.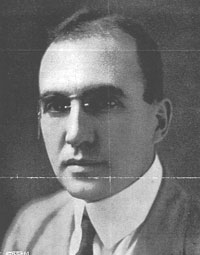 Gisbert Ludolf Bossard, 1934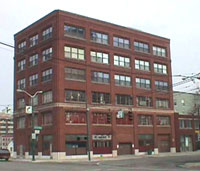 General Kontrolar site, still standing in 2006.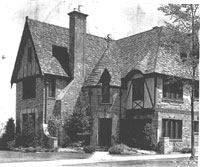 Normandy Castle,The Bossard residence in Oakwood OH, 1930's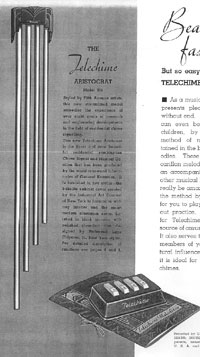 The Aristorcrat model, with optional keyboard and songbook.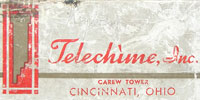 Box graphics from the brief period when J.Ralph Corbett ran Telechime marketing from Carew Tower, the most fashionable address in Cincinnati at the time.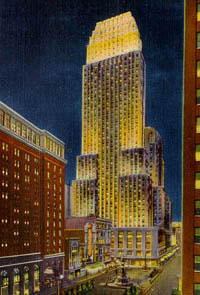 Carew Tower opened in 1934. Corbett's Telechime office was on the 45th floor, the highest occupied level.


"This DeLuxe Portable Display Case is a sure-shot business getter. It is leather covered on the outside and lined with blue velvet on the inside and trimmed with polished chromium fittings. Ready to plug in for instant demonstration."